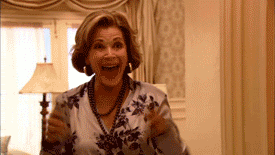 My husband and I used to love Arrested Devlopement! I just read read online ~Jason Bateman

has confirmed that both an Arrested Devlopement feature film AND a limited return to TV of 10 new episodes. If you have not seen this show you must rent it thru Netflicks or check it out on HULU.com. The Bluth family cast is hysterical! Each character brings so much to the show.
My favorite is Lindsay Funke played
by actress Portia de Rossi.
Watch this funny clip here